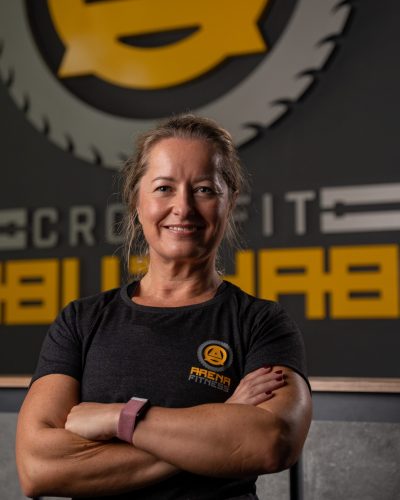 Hello, I'm Stine and I coach CrossFit, Bootcamp and I am responsible for the Ladies Only classes at Arena. I also run nutrition seminars at the gym.
Growing up in Norway I was fostered on a diet of fish, never-ending Sunday walks or cross-country skiing trips (I much preferred slalom), handball, and football. I also spent a lot of time involved in any kind of dance; which may explain my propensity for breaking into dance during CrossFit classes.
After many years of studying various humanities (French, History, Comparative Religion, and – finally – an MA in Diplomacy) I became a real estate agent in London and owned my own agency until I had children and sold up. 
It wasn't until 2015 – having just had my second child – that I started CrossFit and it changed my life. I started coaching and got my CF-L1 in 2018 and have since specialized in pre-and post-natal CrossFit. 
I love sports and I'm passionate about helping others and love nothing more than seeing people develop both as athletes, as well as human beings.